The USS Accession 350 and Inception MK II USV's conduct a high-resolution bathymetry and mobile laser scan survey in Conwy River, Wales
Unmanned Survey Solutions (USS) was recently commissioned by Conwy County Borough Council to undertake a Multi-Beam Echo-Sounder (MBES) and mobile laser scan survey of Conwy quay wall, Conwy bridge, Conwy cob and Tal Y Cafn bridge structures located within Conwy River.
As detailed by the Wales Coastal Monitoring Centre (WCMC), the purpose of the survey was to assess the scour extents at the structure's foundations and to provide additional information on the above-surface structure.
The majority of the survey operations were undertaken in Conwy Harbour using the Accession 350 USV with survey payload consisting of an R2SONIC 2024 MBES, SBG Apogee Navsight INS, Carlson Merlin mobile laser scanner, Valeport SV sensors and Hypack Hysweep data acquisition and post-processing software. Challenges included fast-flowing currents, varying depths, numerous mooring buoys and limited operational windows of only ~2.5 hours per high tide to survey all locations. This required extensive logistical and operational planning, risk assessment mitigation and professional execution of survey operations.
The Tal Y Cafn bridge was located further up Conwy River and required an alternative smaller USV solution due to the shallow water depths and vessel launching restrictions. At this location, an Inception MKII USV with SONIC 2020 MBES, SBG Ekinox-D INS, Valeport SV sensors and Hypack Hysweep software was selected due to its portability and ease of launch.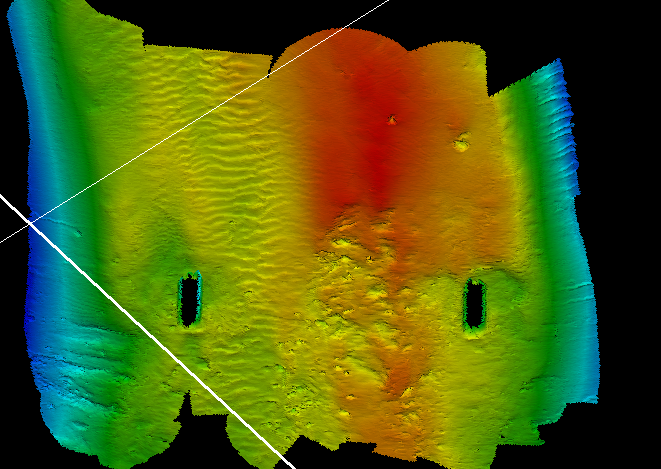 The results from both surveys were used for scour assessment purposes. All survey operations were conducted without incident and to budget.
James Williams, Director at USS commented: "We conducted the survey during some of the highest tides of the year so that we could get the vessels into the shallow locations required to complete the works, however, this meant we had to deploy and recover the USV's in fast-flowing waters and then undertake the surveys during the limited slack water period over the high tides. It took careful planning and required precise execution to be successful, something I'm proud to say was achieved by the USS team."
Bryn Shiland, Programme Manager, explained: ''It is important to assess the condition of our structures and it can be difficult when a structure is submerged within a watercourse. USS were chosen due to their specialism in underwater surveying. The USS team were professional and delivered the desired results".